48V Charger w / PC Style Plug (Dunarri)-V4
48V Charger
PC Style Plug
Made by Dunarri
Works for Many Applications
Chargers may be the most important part of your ebike or scooter. Without a charger you can't ride! Pick up a replacement or spare from Wild. Our chargers, specificly manufactured for us, work on most scooters, small electric ATV's, and ebikes. They have an internal cooling fan, and an LED to indicate when charging is complete.
When the LED is Red the unit is charging. When the LED is green charging is comple (or the charger isnt connected to a battery).
These chargers are also VERY quiet - you could sleep a few feet away from it and never even know its running. This is great for people who charge in their studio apartments or bed/dorm rooms.
This Unit has a PC style plug to plug into your battery pack/scooter.
Please check the polarity of the connector before installing! This is the polarity of the connector on this charger.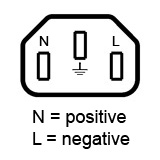 This is Very important and if skipped will damage the charger or your Scooter! If you need help doing this please feel free to contact us.
More Information

| | |
| --- | --- |
| Fits | Universal Part/Fits Many Units |
| Manufacturer | Dunarri |
| Manufacturer's Part Number | DCC48PC |
| Voltage | 48V |
| Part Status | In-Production |