"We got to get one". Thats what we first said when we saw a video of Razors new product, the "Crazy Cart". As soon as we managed to get ahold of one here at Wild, it has been a staff favorite. The ability to drift and drive the cart in any direction is super fun! When all the work is done we sometimes have crazy cart races around our Denver Warehouse.
We highly suggest wearing safety equipment when using the crazy cart. Also, making sure you have an area free of dangerous obstacles is a must, remember the crazy cart has no brakes! Pay special attention to cars, trailer hitches, table tops and forklifts (We know the last from personal experience - don't ask).
Heres a few videos of us playing around on the crazy cart in front of Wilds Warehouse one day. Michelle West Coast tries out the Crazy Cart for the First Time
John on the Crazy Cart at Denver Skate Park
Michelle West Coast Trys out the Crazy Cart for the first time
It is EXREMELY important you check the version of your Razor, and make sure you are ordering the version of part you need. Version information is in the title of each part and the description of each part. If you do not do this you may order the wrong part! For example, the E300 has over 41 different versions with 4 different rear wheels used on them.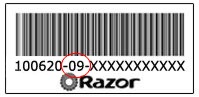 If you used our parts finder, you allready know your version. If not, model versions can be determined based on the product ID code on your Razor product.
Find the barcode sticker that looks like the image to the right. It is typically located on the bottom of the scooter, the steering tube, the battery charger, or on the original box it came in.
The numbers between the dashes in your product ID code (The 7th and 8th numbers) are the version number of your Razor product. For example, "01" = Version 1, "09" = Version 9, "33" = Version 33, etc.