E3 Series (E300, E325, E350, E375)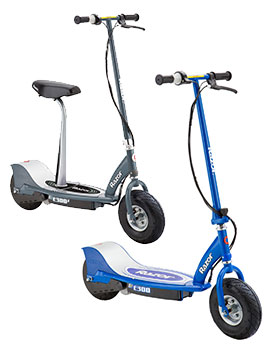 With a larger deck and bigger tires than the other Razor scooters in the E series, the E300 is suitable for teen and adult riders. It can support 220lbs and reach speeds of up to 15mph. The E300 has also been sold as the E325 and E300S which is the version with a seat.
Here are some links to related documents:
Razor E300 Owner's Manual
E300 Wiring Diagram V32+
It is EXREMELY important you check the version of your Razor, and make sure you are ordering the version of part you need. Version information is in the title of each part and the description of each part. If you do not do this you may order the wrong part! For example, the E300 has over 41 different versions with 4 different rear wheels used on them.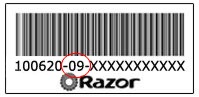 If you used our parts finder, you allready know your version. If not, model versions can be determined based on the product ID code on your Razor product.
Find the barcode sticker that looks like the image to the right. It is typically located on the bottom of the scooter, the steering tube, the battery charger, or on the original box it came in.
The numbers between the dashes in your product ID code (The 7th and 8th numbers) are the version number of your Razor product. For example, "01" = Version 1, "09" = Version 9, "33" = Version 33, etc.