Electrical Kit (Razor E100 Series, E2 Trikke, & E Spark)
Electrical Kit (7C/Control Module & Throttle) for the Razor E100 Series & E Spark.
Demand




Pricing




Active

Demand for this item is off the chart!

Due to limited availability and high demand, Demand Pricing is in effect for this item.

For more information about Demand Pricing, please see the Demand Pricing FAQ Video.
This is a Genuine Razor electrical kit and includes a brand new 24V control module with 7 connectors and matching throttle.
If your scooter turns on, but doesn't move then replacing both of these will most likely address the problem.
Works with the following Razor models:
E100 / E125 (V10+)
E150 (V1+)
E175 (V19+)
eSpark (V41+)
Note:
Model versions can be determined based on the product ID code on your Razor product. It is a barcode sticker that looks like the image to the left and is typically located on the bottom of the scooter, the steering tube, the battery charger, or on the original box it came in. The 7th and 8th numbers usually between the dashes in your product ID code are the version number of your Razor product. For example, "01" = Version 1, "09" = Version 9, "33" = Version 33, etc.
Wild Scooter Parts is an Authorized Razor dealer!


EVERY KIT IS TESTED HERE AT WILD ON OUR TEST BENCH BEFORE SHIPPING, SO THERE IS A ZERO CHANCE FOR YOU TO RECEIVE A DEFECTIVE ITEM.


Due to this being an electronic item,

NO RETURNS ACCEPTED
Please watch the following video, which explains the most common issue customers have when installing the kit: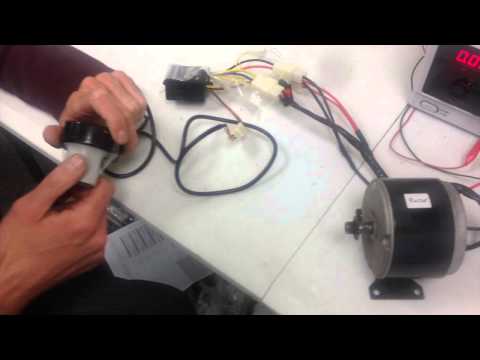 Razor E100 Tech - Controller and Throttle Operation (ebay Safe) - YouTube
Video will open in a new window
One final thing to note is that these controllers feature a low voltage cutoff below 23V, so if your batteries aren't fully charged or are bad the power switch may still light up, but the controller won't "click" despite it still being good. To troubleshoot your scooter you should verify the battery output is at least 23V.
More Information

| | |
| --- | --- |
| Fits | Razor E Spark, Razor E100, Razor E125, Razor E150, Razor E175 |
| Manufacturer | Razor |
| Manufacturer's Part Number | W13111612164 |
| Hitch Lock | None |
| Part Status | In-Production |